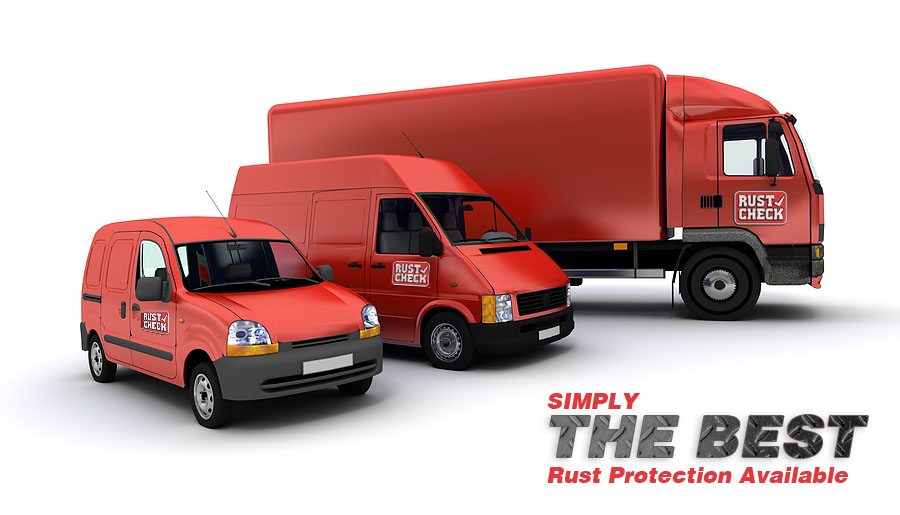 Corrosive salt and damaging moisture penetrates unprotected metals that seep into inner panel seams, leaving behind corrosive contaminants that can destroy metal over time. This residue not only affects the appearance of your truck, but can also attack the joints and spot welds that hold your truck together. The result is a truck that not only doesn't look good, but will eventually become unsafe.
Other so-called "rust proofing" systems use tars and waxes which are not effective in stopping corrosion. They are too thick and do not seep into the tight areas where corrosion begins. In fact, some of them actually "trap in" unwanted moisture and accelerate corrosion.
Rust Check's unique capillary action allows protection to "creep" into the tight seams and crevices where salt and moisture can settle, driving them off and away from the metal surfaces of your truck for maximum prolonged protection.
Rust Check Total Maintenance
Complete underside of cabs and trailers
Rocker panels and inside front wheel wells & liners
Fenders and fender braces, complete hood and fire wall
Slack adjusters, fifth wheel and sliders
Leaf springs and sub-frame
Jumper cord receptical
Air brake maxi pots
Transmission case, oil pan, battery box
Fuel tank, clamps and supporters
All electrical wiring, fittings and connections, including behind headlights, turn indicators, clearance lights, tail light assembly, around cab lights and horn
Apply to all trim, bumpers, chrome moldings, cowls, mirrors, headlights, pots, adjusters, cab steps etc.
Cab roof, around windshield, windshield and door pillars, doors, locks, door handles
Make Rust Check part of your truck's regular maintenance program for complete year round protection against rust!
Rust Check is a unique formula that penetrates into every crevice and seam, actually bonding to metal to displace and lock out moisture in critical rust-prone areas.
Rust Check cleans and protects your electrical system to ensure worry free operation year after year.
Rust Check helps to prevent door lock "freeze up" and lubricates moving parts such as power window and door mechanisms.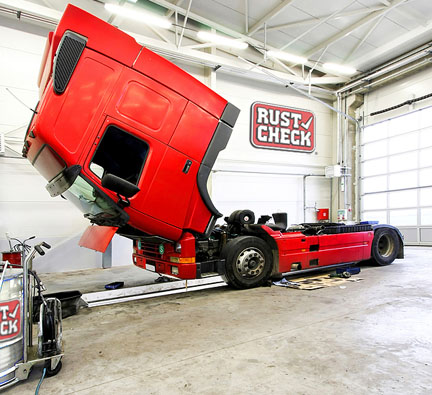 Rust Check penetrates and lubricates nuts and bolts to prevent them from seizing
Rust Check helps to eliminate squeaks and rattles and ensures hinges and cables operate smoothly.
Since Rust Check actually dispels water it can be applied at any time of the year, in any type of weather.
Rust Check has a proven reputation for total protection and will enhance the resale value of your truck.
Rust Check is thoroughly applied by our professionally trained and certified technicians.
Rust Check! It works!
Prolongs the life of your truck & trailer
Safer running with fewer breakdowns
Increases your truck's re-sale value
Protects NEW & OLD metals
Deep penetrating & long lasting protection
Lubricates and prevents seizing