A new truck starts off looking beautiful, but snow, ice, rain, high humidity, winter road salt, and other airborne pollutants start deteriorating it the day it rolls off the assembly line. As trucks age, the need to maintain them takes on even greater importance.
Manufacturer's innovations such as galvanizing, high tech plastics and specialized coatings have improved a truck's corrosion resistance but these measures are not enough.


A new truck has thousands of spot welds and numerous bends and folds during production. This may damage pre-coated metal, allowing exposure to corrosion. Besides cosmetic damage, corrosion also affects truck safety, weakens structural integrity and affects steering and suspension components. It's good business sense to protect your investment with time tested and proven annual Rust Check treatments. Rust Check delivers peace of mind for just pennies a day!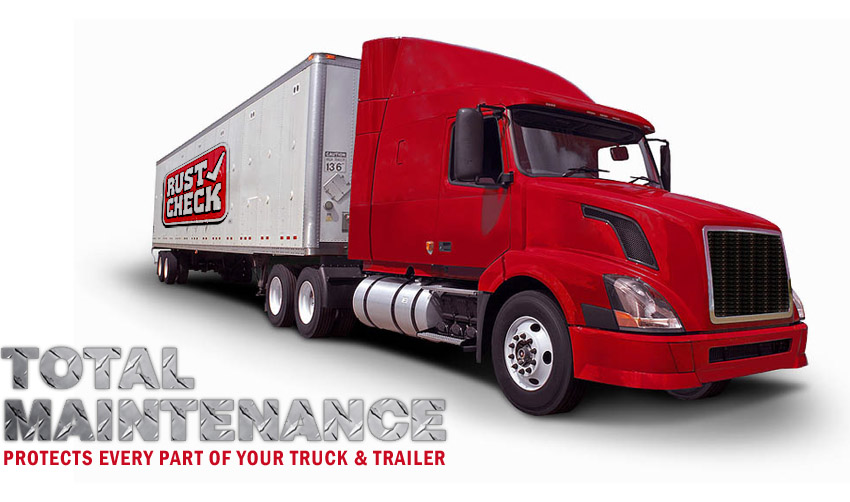 Make Rust Check part of your truck's regular maintenance program for complete year round protection against rust!
Rust Check is a unique formula that penetrates into every crevice and seam, actually bonding to metal to displace and lock out moisture in critical rust-prone areas.
Rust Check cleans and protects your electrical system to ensure worry free operation year after year.
Rust Check helps to prevent door lock "freeze up" and lubricates moving parts such as power window and door mechanisms.
Rust Check penetrates and lubricates nuts and bolts to prevent them from seizing.
Rust Check helps to eliminate squeaks and rattles and ensures hinges and cables operate smoothly.
Since Rust Check actually dispels water it can be applied at any time of the year, in any type of weather.
Rust Check has a proven reputation for total protection and will enhance the resale value of your truck
Rust Check is thoroughly applied by our professionally trained and certified technicians.
Rust Check! It works!
Prolongs the life of your truck & trailer
Safer running with fewer breakdowns
Increases your truck's re-sale value
Protects NEW & OLD metals
Deep penetrating & long lasting protection
Lubricates and prevents seizing